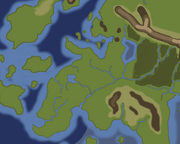 The countries that emerged in western Razenor since the Empire's fall a millenia ago. Included are the nations of Erazel, Osgorim, Thol, Volais, and Argan.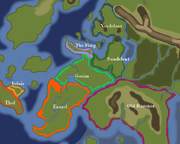 History of the Western Kingdoms
[
]
For more information, see History of the Western Kingdoms
Erazel
[
]
This peninsular nation has been bastion of civilization in the west since its founding in the eighth century after the fall of the Old Empire. This land was occupied by Goric tribes centuries ago, but now the Erazi call it their home.
Gorim
[
]
What was once a confederation of Goric tribes, they have grown into a powerful rival to Erazel.
Sundelent
[
]
Nordelent
[
]
The Isles
[
]
Thol
[
]
Volais
[
]
Others
[
]